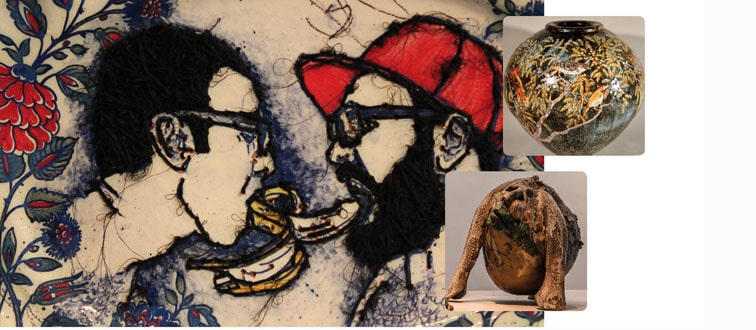 5.09 – 13.10
POPULAIRE
Jérôme Galvin and FullMano
Artisans create useful objects for everday use that are ergonomic with a sense of practicality, and at the same time having some style. This is the basis on which the potter and the embroiderer came together. Both of us are far away from utilitarian concerns, from the essential objects, but we take our inspiration from them.
I came across FullMano almost ten years ago on a popular social network. I contacted him to tell him that we were similar, that like me, he had this culture of working with mediums that were hard to preserve. The limits are blurred, but Popular Art, even when it is diverted in some way, always frightens the elite. We don't care, that's where we come from, and we intend to stay with it.
A rose is a rose, whether it has been embroidered on a napkin or painted on a jug. It's decoration, at the same time trivial and essential to life. Why do people say that we decorate whereas others paint? Because we put this painting on a shape or embroider a material that is used to wipe our mouths? Once upon a time we were considered essential and even the smallest pottery had a way of decorating; be it just due to the firing, or the way the pieces are placed in the kiln.
FullMano always watched the women in his family sewing and embroidering enthusiastically in a friendly atmosphere. I grew up in a village of potters, workers who liked the repetitive gestures of their work and living with enthusiastic parents.
The pleasure of doing, of passing on a job well done to others; the gift of an object that will be used every day or the time shared around a table with these friends is unforgettable, even if there is no signature at the bottom right of the painting. It's popular art, being popular like a singer, like an artisan with huge outputs that make people happy. Pop Art is not just an artistic movement, it has always been there and we will continue to make use of it!
Jérôme Galvin
RÊVERIES
François Debien
Nature inspires me in my artistic approach, and the small rural village, Villemaréchal, where I live provides me with conditions that are particularly conducive to fulfilling my work.
I love working with clay, and perhaps even more so with glazes which have always fascinated me. I am then guided above all by my research into the qualities and possibilities that come from the different kinds of glazes and the way in which they are used. For the moment, I am pursuing two different avenues:
The core of my production is working with shino glazes that I use to paint  motifs from nature using a brush. My goal is on one hand to depict the images (especially birds, trees and the world of water) in a natural way and on the other hand, to incorporate them into a poetic world all of my own.
The other technique I have developed is based on decoration with slips that I then cover with a thick layer of transparent glaze. This creates a crackled surface, letting the patterns appear as if seen through glass or even the surface of the water.
All these decorations are on pieces that I have thrown, apart from a range of square and rectangular dishes that I make from slabs of clay. After a biscuit firing at 960°C, I re-fire the glazed parts at high temperature (1320°C) in my gas kiln in a reducing atmosphere.
The pieces exhibited in 2020 at La Borne can be seen as an invitation to dream and to discover not only my inner world, but perhaps also a part of whoever dives into it.
François Debien
THE CERAMICS ASSOCIATION OF LA BORNE
Permanent artistic exhibition
This exhibition has been designed by the members of the Ceramic Association of La Borne (ACLB) to reflect the programming of the temporary exhibitions. All year round, you can discover the variety of the traditional or the contemporary, the sculptural or the utilitarian artistic activities of the members of the ACLB.
The Artists:
Céline ALFROID-NICOLAS, Éric ASTOUL, Jean-Luc BELLEVILLE, Françoise BLAIN, Laurence BLASCO MAURIAUCOURT, Jeltje BORNMAN, Patricia CALAS-DUFOUR , Fabienne CLAESEN, Dominique COENEN, Isabelle CŒUR, Nicole CRESTOU, Suzanne DAIGELER, DALLOUN , Stéphane DAMPIERRE , Bernard DAVID, Corinne DECOUX, Ophélie DEERELY, Rachid DJABELA, Claude GAGET, Agnès GALVAO, Dominique GARET, Laurent GAUTIER, Geneviève GAY, Pep GOMEZ, Frans GREGOOR, Catherine GRIFFATON, Jean GUILLAUME, Claudie GUILLAUME -CHARNAUX, Viola HERING, Roz HERRIN, Svein HJORTH-JENSEN, Jean JACQUINOT, Pierre JAGGI, Anne-Marie KELECOM, LABBRIGITTE, Daniel LACROIX, Jacques LAROUSSINIE, Dominique LEGROS, Christine LIMOSINO-FAVRETO, Claire LINARD, Guillaume M0REAU, Machiko HAGIWARA, François MARECHAL, Joel MAROT, Elisabeth MEUNIER, Maya MICENMACHER-ROUSSEAU, Francine MICHEL, Isabelle Marylène MILLERIOUX, Isabelle PAMMACHIUS, Nadia PASQUER, Christine PEDLEY, Lucien PETIT, Jean-Luc PINCON, Charlotte POULSEN, Françoise QUINEY, Michèle RAYMOND, Anne REVERDY, Sylvie RIGAL, ROCHINA Alicia, Lulu ROZAY, Hervé ROUSSEAU, Nicolas ROUSSEAU, Karina SCHNEIDERS, Georges SYBESMA, Diane TRUTI, Jean-Pol URBAIN, Nirdosh Petra VAN HEESBEEN, Claude VOISIN, David WITHEHEAD, Seungho YANG.
Exhibition from 5 September to 13 October, 2020
Presentation of the artists' work (must be booked, limited number of places):
Saturday 5 September at 3 pm and 5 pm
Sunday 6 September at 11.30 am

As a result of extraordinary health measures in place, there will be no private viewings

Open every day: 11 am-6 pm