Adult and Family Workshops
Intergenerational & family beginners' workshop
This monthly intergenerational workshop is an opportunity to discover the art of pottery and encourage contact between the participants. Have fun experimenting with clay! Our facilitators will accompany you through each step of the workshop.
Dates 2021
10 April (cancelled) – 11 April (cancelled) – 19 June – 31 July – 14 August – 18 September – 19 September – 29 October – 30 October – 31 October – 6 Novembrer – 27 November – 18 December
Two possibilities : 2 pm to 3 pm or 3 pm to 4 pm
Tarif:
10€, Workshop must be booked in advance, subject to availability.
Firing not included (rates upon request)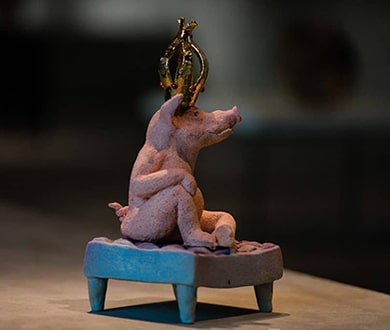 Family workshop with Capri : Creating animals
Ceramist living in Clichy
30.04 to 02.05 new schedule : 02.08 to 04.08
Come and discover the world of Capri.
With an adult, your child design, model and colour an animal in clay. An unique sharing moment creating a four-handed ceramic.
Price: 240 €
Program and booking
Weekly pot-throwing course
Would you like to take a "turn throwing a pot" and create your own dishes, original, graphic vases or beautiful decorative ceramic objects? These weekly pot-throwing classes will enable you to gain a precise technique and to go home with a unique and personal object. Take advantage of this opportunity!
Dates
Mondays outside of school holidays from 2 pm to 4 pm
8-15 February
8-15-22 March
5-12-19 April (cancelled)
17.24.31 May
7-14-21-28 June
6-13-20-27 September
4 October
8-15-22-29 November
6-13 December
Tarifs:
5 classes: 100€ – 10 classes: 180€
NB: Courses must be booked in advance.
Firing not included (rates upon request)
5 places are available per course.
Visiting La Borne and its outlying areas
Visit La Borne and its surroundings and discover local products, crafts and skills. Our history which focuses on traditional pottery and the revival of ceramics can be discovered along the way, via the wood-fired kilns, potters' workshops, historic sites and places dedicated to showcasing our past and our present day heritage.
Take the time to walk around and meet the artists and artisans who live in our community.
Do not hesitate to contact the Contemporary Ceramics Centre in advance in order to arrange your visit.

Please make out all cheques to:"Régie Centre céramique".