Practical Information
Annual closure from 31 december 2018 to 1st february 2019.
Opening Hours for 2019
2 February to 26 april: 11am-6pm
27 April to 15 september: 11am-7pm
16 september to 31 décember: 11am-6pm
Open daily except for 25 December,  and on Thursdays when new exhibitions are being set up : 14 mars, 25 avril, 6 juin, 18 juillet, 29 août, 10 octobre, 21 november.
.
Prices for 2019
The shop and bookshop areas can be accesses free of charge for all visitors.
Full price for individuals: 3 €
Membership card entry : 10 €
Annual subscription which allows you free entrance to the exhibitions for a year.
Group price: 2 €
For groups of over 10 people
Reduced group price: 2 €
Reduced price: 2 €
Young people aged between 15 and 25, people receiving benefits, job seekers, disabled persons and war victims.

Free entrance: 
Children under the age of 14 years
From 4pm on days when there are private viewings of exhibitions scheduled.
Pass La Borne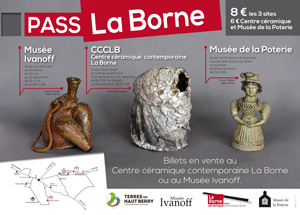 La Borne Pass
This pass enables you to enter two or three of La Borne's exhibition spaces associated with ceramics, at a reduced price and depending on their opening times.
There are 2 ticket options:
– Ticket for the Ceramics Centre/Pottery Museum: €6
– Ticket for the Ceramics Centre/Pottery Museum/Ivanoff Museum: €8
Tickets on sale at the Contemporary Ceramics Centre of La Borne and at the Vassil Ivanoff Museum.
Opening Hours of the Pottery Museum:
From 3 pm to 6 pm
Every weekend and on bank holidays during school holidays from Easter to Halloween.
Opening Hours of the Vassil Ivanoff Museum:
Wednesday to Sunday
From 6 July to 1st september 2019
11 am -1 pm / 3 pm -6 pm


Geographical Location
The Centre of Contemporary Ceramics of La Borne is located in the village of La Borne (attached to the towns of Henrichemont and Morogues) on the Departmental Road 22.


We are located:
25 minutes from Sancerre 35 minutes from Bourges 90 minutes from Orléans 2.30 minutes from Paris