Practical Information
From Monday 9 August 2021, visitorsof 18 years and over will be required to present a valid health pass, either:
A full vaccination certificate (provided that a full vaccination schedule is available),
A negative RT-PCR or antigen test done less than 72 hours previously,
A certificate of recovery from covid-19: positive RT-PCR or antigenic test dated at least 11 days ago and less than 6 months old.
The wearing of a mask remains mandatory as does the need to maintain social distancing.
Thank you for your understanding and we hope you enjoy your visit!
Opening Hours
5 February to 30 June 2022: 11am-6pm
1 July to 18 September 2022: 11am-7pm
19 September to 31 December: 11am-6pm (exceptional opening until 7pm from 22 to 29 October)
Annual closure from 1 January to 3 February 2023
Open daily except for 25 December.
Please note: special access conditions during the dismantling and mounting of the exhibition areas and for private viewings.
– Closed on Wednesdays: 23 March, 4 May, 6 July, 31 August, 19 October, 23 November
– Closed on Thursdays:  24 March, 5 May, 6 July, 1 September, 20 October, 24 November
– Open on Fridays depending on our technical limitations – paid entry: 25 March, 6 May, 7 July, 2 September, 21 October, 25 November
– Saturdays when there are private viewings: paid 11 am to 2 pm; free entry  from 2 pm: 26 March, 7 Ma3 September, 22 October, 26 November
N.B. The shop and bookstore area remains accessible at no charge when exhibitions are being mounted and dismantled
Prices for 2022
The shop and bookshop areas can be accesses free of charge for all visitors.
Full price for individuals: 3 €

Membership card entry : 10 €
Annual subscription which allows you free entrance to the exhibitions for a year.
Reduced price: 2 €
Groups of more than 10 people, young people between the ages of 15 and 25, YEP'S scheme, recipients of minimum social benefits, job seekers, disabled civilians or victims of war, holders of the "Big Family" card

Free entrance*: 
ACLB members and benefactor members, members of the AIC (International Academy of Ceramics), members of the "devenir association.art", children under the age of 14, ICOM or IKT cardholders, journalists, holders of the Pro Tourisme BerryPass, Maison des Artistes.
*Upon presentation of proof that is under three months old.
La Borne Pass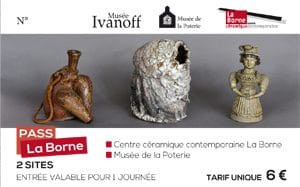 This pass enables you to enter two of La Borne's exhibition spaces associated with ceramics, at a reduced price and depending on their opening times.
– Ticket for the Ceramics Centre/Pottery Museum: €6
Tickets on sale at the Contemporary Ceramics Centre of La Borne.
Opening Hours of the Pottery Museum:
From 3 pm to 6 pm
Every weekend and on bank holidays during school holidays from Easter to Halloween.
Geographical Location
The Centre of Contemporary Ceramics of La Borne is located in the village of La Borne (attached to the towns of Henrichemont and Morogues) on the Departmental Road 22.


We are located:
25 minutes from Sancerre 35 minutes from Bourges 90 minutes from Orléans 2.30 minutes from Paris