Ophelia Derely
Ophélia has been working with clay for around ten years.
She studied art ever since childhood, following courses at the Museum of Modern Art at Villeneuve d'Ascq (59) before undertaking studies in humanities and art at the "Institut St Luc" in Tournai (Belgium).
For five years she gained knowledge and techniques in art as required for her degree. At the age of 20, she was accepted into the Fine Arts course at Bourges (18), and here she refined her artistic work, but the materials she was using did not suit her. On leaving the School of Art, she encountered La Borne (18) and St Amand en Puisaye (58), and in doing so came into contact with stoneware and wood-firing. Meeting ceramists was crucial for her.  She then went through a ten-year apprenticeship to understand this new material and how firing works. In 2010, the 'wood fire kiln La Borne' meeting organised at La Borne allowed her to come into contact with around thirty ceramists from all over the world who only use wood-firing. The starting point was for her to build her own kiln. It took eighteen months to construct it and prepare the first firing. By working with fire, her work is successful and in perfect harmony with the energy within.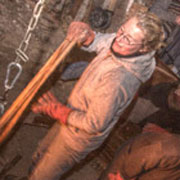 Contact
Les Petits
18250 Neuilly-en-Sancerre
06 46 68 60 02