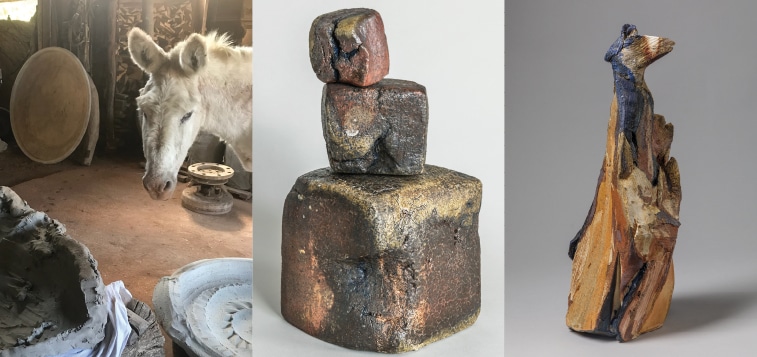 25 November – 31 December
Presentation of the exhibitions
Sunday 25 November at 3.30 pm
Private viewing
Saturday 26 November at 6 pm
Discovery tours
Sundays 3 and 10 December, 11.30 am to 12.30 pm
Nicole Crestou, ceramistof the Ceramics Association of La Borne, will be on hand to guide you through the exhibitions –
an opportunity not to be missed for outreach and the sharing of ideas.
Conditions: standard exhibition admission fee apples.
Open every day from 11 am to 6 pm
Ile/Mer/Froid and Hervé Rousseau (ACLB)
Mondo Alterado
Feedback from the "Artistic Residence of La Borne" scheme
> Read more about this exhibition
Île/Mer/Froid, which experimented with sculpture and wood firing in collaboration with the ceramist Hervé Rousseau.
Île/Mer/Froid wormed in 2014 as a joint body with imprints that draw the shapes, the landscape in which it comes to life and evolves, as well as the bestiary that haunts it.
A concrete, empirical sculpture comes to life, drawing on vernacular knowledge, popular arts and the forms and materials that surround it, situated between the documentary and the representational. Spontaneous constructions of raw materiality, zoomorphic sculptures, plant motifs, makeshift furniture and utilitarian
objects capture the environment and its resources, the energy of shared experimentation, and compose a huge vocabulary in motion that celebrates wildness, encounters
and an experience of landscape.
Hervé Rousseau lives and works in Boisbelle close to La Borne
In 1977, Hervé learned to throw pots with Augusto Tozzola, then he gained further experience in Quebec and in the south of France, before setting down his pottery wheel in Boisbelle, just outside Henrichemont, almost by accident. He always gets to the basics. A quick, efficient throwing and good, unwashed clay are the fundamentals for him. All his work is fired in a noborigama kiln. A primitive roughness carves out the aesthetics of a soulless "smoothness". This vigorous simplicity is how ceramic expression is wrung out. The way it is shaped underscores a gaze upon older pieces. Hervé's work is a celebration of hand movements, exploring the material's plasticity. Clay stands tall in Boisbelle, from pots to markers to milestones.
Bernard David
Association Céramique La Borne
Volume 2 – Cube

After looking at "Volume 1 – Sphere" in 2022, the members of the Ceramics Association of La Borne continue their exploration of a common form: the cube. The word comes
from the Greek kubos, "the dice".
Six square faces, twelve edges, eight vertices – the sphere is associated with the heavens, but for Plato the cube is associated with the Earth. A symbol of stability, completion and achievement, the cube is a form that is easy for the eye and the hand to grasp. In painting, the cubist movement is over a hundred years old. In architecture or the design of objects, this polyhedron is still an inspiration, promoting abstraction.
In ceramics, the cube can be a box, a sculpture, a wall element, a totem, etc.
Throughout the exhibitions, the permanent artists of the Ceramics Association of La Borne offer an authentic range of diverse practices, an abundance of materials,
forms and ideas. Here, for the second consecutive year, everyone is being called upon to create based on a common form, in order to better reveal this diverse nature.
This is a starting point that each person will take on "fairly and squarely" in order to share their world view as a whole.
Ceramics Association of La Borne
Permanent artistists
The ceramists:
Céline Alfroid Nicolas, Éric Astoul, Françoise Blain, Laurence Blasco Mauriaucourt, Jeltje Borneman, Myriam Bouchard, Patricia Calas Dufour, Fabienne Claesen, Dominique Coenen, Isabelle Cœur, Nicole Crestou, Suzanne Daigeler, Dalloun, Stéphane Dampierre, Bernard David, Corinne Decoux, Ophélia Derely, Claude Gaget, Agnès Galvao, Dominique Garet, Laurent Gautier, Geneviève Gay, Marie Géhin, Pep Gomez, Frans Gregoor, Catherine Griffaton, Jean Guillaume, Claudie Guillaume Charnaux, Viola Hering, Roz Herrin, Svein Hjorth-Jensen, Jean Jacquinot, Pierre Jaggi, Anne-Marie Kelecom, Labbrigitte, Daniel Lacroix, Jacques Laroussinie, Arlette Legros, Dominique Legros, Christine Limosino Favretto, Claire Linard, Machiko Hagiwara, François Marechal, Joël Marot, Élisabeth Meunier, Maya Micenmacher Rousseau, Francine Michel, Marylène Millérioux, Mélanie Minguès, Guillaume Moreau, Isabelle Pammachius, Nadia Pasquer, Christine Pedley, Lucien Petit, Charlotte Poulsen, Françoise Quiney, Michèle Raymond, Mia Refslund Jensen, Anne Reverdy, Sylvie Rigal, Alicia Rochina, Lulu Rozay, Hervé Rousseau, Nicolas Rousseau, Karina Schneiders, Georges Sybesma, Diane Truti, Jean-Pol Urbain, Émilie Vanhaecke, Nirdosh Petra van Heesbeen, Claude Voisin, David Whitehead, Seungho Yang.