Frans Gregoor
Ever since 1986, when I was staying in Ireland, I have been addicted to porcelain.
I love its whiteness and its transparency, I love the way it responds to delicate colours, I struggle with its limited plasticity, sometimes I hate its sculptural, thermal memory.
In other words, it's a real diva but deep in my heart, I cherish it.
Frans Gregoor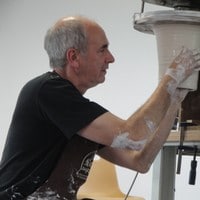 Contact
La Borne
18250 Henrichemont
02 48 67 95 46
0032 475 41 73 95