Françoise Blain
I started working as a ceramicist in 1995 in the Nantes area.
In 2002 I moved to Crézancy en Sancerre 10km from La Borne.
Course in pot-throwing with Suzanne Schürch in the Tours area, and a glazing course with Charles Hair.
I work with porcelain because I enjoy high temperature glazes, their gentleness, their luminosity and the types of white which exist.
And I love raku for its spontaneity, the direct contact with fire, and the love of materials. With its thickness and the layers of slip and glazes, Raku is perfect for large scale, one-off pieces.
Meeting a number of people has led me to design and produce Ikebana containers.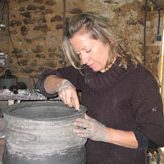 Adult and children courses
Contact
11 Grand Route La Borne d'en bas
18250 Henrichemont
00 33 (0)2 48 02 23 30
00 33 (0)6 83 84 90 18