Françoise Blain
Françoise Blain was renovating her house when she became aware of her hands, of these "fabulous tools". Her childhood memories come flooding back to her. She scratched the earth in search of fragments. After her day's work as a scientist, Françoise covered long distances to indulge her passion for ceramics.
She discovers porcelain with its softness and whiteness once it is fired. She found her equilibrium. Leaving the Nantes area, she moved to the region around Sancerre in 2002.
In her search for glazes, she thrives on the merging of minerals. The warm, unctuous glaze covers her pieces like a wave breaking on the beach. Françoise Blain moved to La Borne in 2016 to be closer to her fellow artists.
Both ceramics and this village have met her expectations and have enabled her to gain access to her rightful place.
Text: Bernard David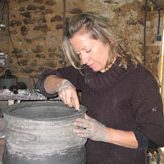 Adult and children courses
Contact
11 Grand Route La Borne d'en bas
18250 Henrichemont
00 33 (0)2 48 02 23 30
00 33 (0)6 83 84 90 18