Catherine Griffaton
To start with, my training was in animation. I studied at the Beaux-Arts (School of Fine Arts) of Nantes then at the School of the Image in the Gobelins quarter of Paris.
I have travelled and drawn, for over 30 years going from one film project to another. I drew the interplay between actors mixed with film techniques.
By chance, I frequently came across clay, or was it my destiny?
La Borne is the ideal place…It was no struggle for me to go from producing high volumes of drawings to creating volumes created from clay shapes.
In the characters I make, I seek out shape, line curve, expression, and even voids have their importance… Sometimes I close my eyes, make a movement and tell a story…
I enjoy working with the colours of clay. I often use porcelain because it takes me back to the notion of a blank sheet of paper. But I also use black or orange stoneware… cobalt, gold, glazes, then I paint scenes or jewellery on a clay plaque…. I am exploring the undefined territory that is the imagination…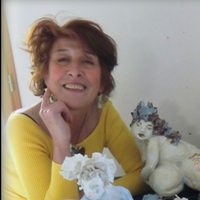 Contact
2 Grand route
La Borne
18250 Henrichemont
02 48 66 32 69
06 87 81 56 94
Organise des stages (construire un personnage)