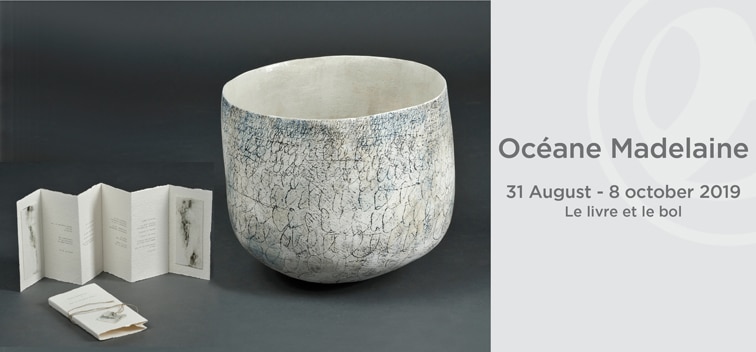 Océane Madelaine
LE LIVRE ET LE BOL
In my studio, gradually the gestures have become more precise, and over the years they have led me to two simple forms that I would like to present today at the Ceramics Centre of La Borne: the book and the bowl. What can be read and what it can contain.
The book is made of porcelain, paper and text, and the stoneware bowl is can be made up to the size of a sculpture. Since then, to express it in as precise a way as possible, it's all about traces that have escaped, been erased or preserved. All about the contrast between tense and sensitive shapes and what is written on them – but this is writing before writing, before the meaning of words. On stoneware and porcelain, there appear lines engraved with a dry point, layers of slip, dots and striations. "Scribbles", as my daughter Rebecca would say, who, at the age of 4 and a half, is now learning to stay within the outlines. So writing the trembling, the spot, the fuzziness of a colour, something faded, something that is tender, as well as being fiery. Avoiding the virtuoso gestures and, instead, cherishing the fragility that finds refuge in the curve of the bowl or the page made of porcelain. A fierce kind of fragility.
Again, the book and the bowl, for coming to meekly exhibit my work at the Borne, in this country of potters that I have loved for so long, where I learned the basics of the craft, and where I was so fascinated by Marie Talbot that she was to become the inspiration for a character in my novel "D'argile et de feu" (Of Clay and Fire).
And maybe, through these bowls and books, I can bring to the Berry region something of the red moorlands of Finistère, the frothy foam of the sea around the island of Ushant, a little of what is known in the Breton language as glazig, this colour somewhere between blue, green and grey that has become my landscape. Maybe…
Océane Madelaine
Exhibition from August 31 to Ocrober 8, 2019.
Opening Saturday, August 31 from 6pm to 9pm preceded by a meeting with the artist at 5pm.
Open every day from 11 am to 7 pm until 15  September and from 11 am to 6 pm from 16 September.